Hebraic Roots Study Hall
Quick Jump Menu
ebrew/Biblical Calendar
The Two Houses: An Orthodox Jewish Perspective
Hebrew Roots Teachers (Audio and Video) <![if !supportLineBreakNewLine]>
<![endif]>
Free Audio Teachings
on the Two Houses
Defining Biblical Terms
Defining Biblical Terms
11 Video Teachings by Avi Ben Mordechai
This teaching is no longer available. Sorry!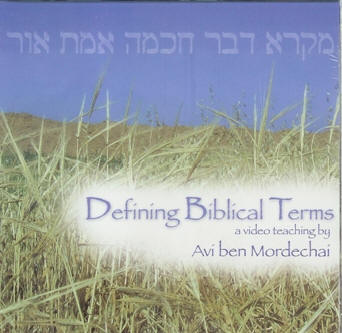 What is the Biblical definition of many important doctrinal words which we find in the New Testament ? Amazing, they are defined for us in the Hebrew scriptures (Old Testament).

Words convey meanings and meanings will vary depending on the culture that you associate with it. In first century Israel , what did words similar to the list below mean to the Jews who heard them firsthand? How did they understand their meanings?

Today, in many religious circles, people define these terms according to their understanding based upon the culture that we live today. This causes people to make serious mistakes in terms of how they interpret the Scriptures. In this DVD , we are going to look at some of the most common terms associated with our faith today and define them using the Hebrew scriptures that the Jews used in the first century so that we can get a better understanding of what they really mean.

Among the terms to be defined in this DVD teaching are the following: Gospel, Scripture, Faith, Grace, Church, Sin, Word, Light, Truth, Wisdom, Repent, Law, Backslidden, Stumbling Block, After His Resurrection, and Various Others.