Contact Us
Quick Jump Menu
Contact Us
About Us
Support Us
Listen Live
Upcoming Conferences
Invite Eddie to Speak
Invite Eddie to Speak
Eddie enjoys speaking at conferences, congregations, home fellowships or special gatherings large or small. Here are some guidelines to follow in inviting Eddie to speak.
SPEAKING FEES
Eddie does not set a minimum fee to speak at your event. Eddie believes that our Heavenly Father will provide for all our needs. As a result, Eddie speaks on a "love offering" basis.
TRANSPORTATION
The host for Eddie's speaking engagement is expected to take care of transportation expenses. In most cases, Eddie will fly to your area. In some instances, he may drive. HHMI may book the travel or the host may book the travel. If HHMI books the travel, the host is expected to reimburse Eddie for his travel expenses.
LODGING
The host is expected to provide lodging and pay for the lodging expenses for Eddie's speaking event. He is flexible to stay at a local hotel or at the private home of his hosts.
FOOD
Eddie likes to eat a wide variety of foods. However, in doing so, he eats Biblically kosher.
TEACHING RESOURCES
Typically, Eddie will bring teaching or resource materials to his speaking event to sell to his speaking audience to aid them in their studies on the Hebraic roots of Christianity. Usually, a small table is needed to sell these products.
TO SCHEDULE EDDIE
You may inquire to schedule Eddie to speak in your area in one of the following ways:
Write: Hebraic Heritage Ministries Int'l
PO Box 81
Strasburg, OH 44680
Yeshua from Genesis to Revelation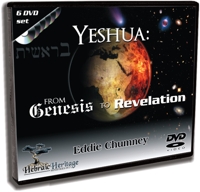 This DVD series reveals Yeshua in the entire Bible (Psalm 40:7, Luke 24:44). Yeshua is in the Torah. He created the heavens and earth, made covenant with Abraham, led the children of Israel out of Egypt, gave the Torah at Mount Sinai, is the bridegroom of Israel and the glory of God that filled the tabernacle. Yeshua died on the tree to unite the twelve tribes of Israel (John 10:16-17, 11:49-52). Yeshua will gather the twelve tribes of Israel during the tribulation period and be glorified. He will reign during the Messianic Era as King over the whole earth teaching the Torah to all nations. While revealing Yeshua from Genesis to Revelation, this DVD series also teaches the basic principles of the Hebraic roots of Christianity, including who is the house of Jacob, Torah is for all believers in Yeshua, and Two Houses and the New Testament. Finally, this DVD series gives a Hebraic perspective of the end of days. In all, twelve hours of power packed teaching!